ABOUT US
Elevate Design Build is an architectural design and construction company specializing in residential custom homes, remodels, additions, landscapes, and commercial projects.
Building is a journey. It can be overwhelming. There are ideas to flush out, obstacles to overcome, and decisions to navigate. We walk with our clients from start to finish. From the first concepts and ideas to the final touches of construction. We are committed to be there through everything, to make your ideas real.
Elevate Design Build is located in Walnut Creek, California serving the East Bay of San Francisco including Danville, Alamo, San Ramon, Pleasanton, Concord, Martinez, Lafayette, Orinda, Moraga, Oakland, Berkeley, Piedmont, and more.
We are licensed, bonded, and insured General Contractors. CSLB #991259
MISSION STATEMENT
Why We Do It
The Elevate mission is to serve our clients with the highest level of architectural design and construction management possible. We strive to make their building project a positively memorable experience.
VISION STATEMENT
What We Do
We believe that the design/build process gives our clients the best possible outcome for their project by building a trusting relationship and seamless communication from design through construction. Design is the platform on which our client's ideas are brought to life. Construction is a matter of proper management, which includes a sensible plan for making material choices, a reasonable schedule, a reasonable budget, and maintaining clear communication.
Justin grew up designing and building homes with his dad and made an early decision to head off to architecture school. He then practiced architecture for 13 years after graduating from Montana State University with a Master's degree in Architecture. Throughout his early career as a designer and project manager, Justin witnessed the complexity, the tension, and the disconnect between the architect and the contractor. Having a well rounded experience in both fields and a passion to see his client's dreams of building come to life, he decided to bring the practice of architecture and construction together under one roof. Justin launched Elevate Design Build in 2013 to accomplish this dream.
Kimberly has many upfront office responsibilities and behind-the-scenes roles assisting the project managers and the design team members. She contributes in administration and accounting, day-to-day business operations, and long-term business development planning goals. Kimberly has 20 years of construction industry experience. She has a welcoming and eager-to-assist personality and she is proud to be part of the Elevate team!
Chris has over 26 years of construction experience. At the age of 16, Chris started framing custom homes as a part-time job. After high school he took a full time job for a small development company as a carpenter and set out on a path to a variety of work experiences in the construction field including customer service for new home construction, working with Centex Homes as a superintendent on over 200 residential projects, and as a project manager for a restoration company. Here at Elevate Chris brings his hands-on approach throughout the construction process and cares deeply about quality of design and construction.
Dennis has over 28 years of woodworking experience. At a young age Dennis had a passion to build things. What started with Legos turned into going to jobsites with his Dad learning about construction as well as Helping family and neighbors with home remodel projects. In high school Dennis won the Bank of America achievement award for applied arts as well as best of schools at the county fair two years in a row with a custom-built coffee table and then a kitchen table for his Mom. This turned into a career in custom cabinetry /woodworking where Dennis owned his own business for over twenty years designing and building custom wood products. Here at Elevate Dennis brings his years of customer service and job management to help you with your project.
Oakridge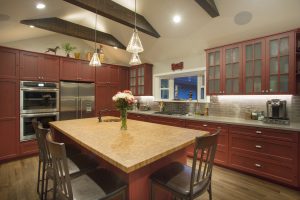 "Elevate just wrapped up a whole-house remodel project for us. It was my first time on a home project of this size, and they were great to work with. Going with a design/build firm has a number of advantages, the biggest, in my opinion, is eliminating the finger pointing between the Architect and the contractor, and having them all on the same team.  Justin, Chris, and the rest of their team were great at taking our ideas and incorporating/refining them into the design. Construction was well-planned and executed.  Also, I was impressed with the work of all the different trades they brought to the project. Overall, I would recommend them without hesitation for those interested in a home remodel"
John Pulliam
La Cresta
"Justin and Jeff Barrett were AMAZING!! Such great people and good quality work too!  Justin and Jeff have done multiple projects at our home in Orinda. They care, they respond quickly, and they get the job done in a timely fashion!  They take care of all the details. They hire really great subcontractors as well. Their project manager, Chris was amazing also. He gave us a timeline of things they planned on getting done that specific day.  We will likely use them again for a future projects."
Sharon Lee Kim
Silver Meadow
One of the greatest success stories coming out of our house remodel was meeting and working with Jeff Barrett of Elevate Design Build! Contemporary, creative, flexible, timely, innovative, great sense of humor, really interesting to talk to, super guy – simply brilliant!
Read More
We had a general idea of what we wanted to do and Jeff executed flawlessly to meet our core objective. He responded extremely well to input and requests for changes. What made the experience really special was the slew of ideas he proposed to make our new house even more fantastic. His ideas and advice ranged from structural reconfigurations to materials for floors and types of doors. He even took us to a local stone company to show us different tiling options.
His architectural drawings were immaculate and so comprehensive that our plans breezed through the HOA review and City Planning – rare I'm told. We were so impressed with his designs and work ethic that we wanted to continue the project with Elevate into the construction phase. Unfortunately we were already contractually committed to another contractor.
I would highly recommend Jeff and Elevate to anyone thinking about a remodel – big or small! You will not be disappointed."